Here is a step-by-step guide on how to sign up for a Corporate Account on Tokenize Xchange.
Step 1: Click on the 'Sign Up' button at the top right corner of the page.
Step 2: Select 'Corporate' as the Account Type and key in your email address and a strong password that you will remember.
Note: Your password must have at least 8 characters and contain at least 1 lowercase letter, 1 uppercase letter, 1 number and 1 special character.
Read the Terms of Service and Privacy Policy and tick on the checkbox to sign up.
Step 3: You will be directed to this page that informs you that you are creating a business account. Click on the 'Confirm' button to proceed.
Step 4: You will receive an email in your inbox with the verification link. If you do not receive it within 5 minutes, please check your Spam or Junk box. Click on the "Activate Account" button to verify your email address.
Step 5: Once you have signed up a corporate account and verified your email address, you may log in to Tokenize Exchange.
Enter your registered email and password and tick the reCAPTCHA box to solve some simple puzzles to prove that you are not a robot to sign in.
A corporate account and identity must be verified before the business can start trading on Tokenize Exchange. This is to comply with existing rules on Know-Your-Customer (KYC), Anti-Money Laundering and Countering Terrorism Financing (AML/CTF) set out by Monetary Authority of Singapore (MAS).
Once you have successfully signed up and verified your email address, follow the steps below to verify your business and identity. You will be directed to the Verification page after your first sign in.
Step 6: Submit the necessary company information and documents and click Next to proceed.
All fields are mandatory.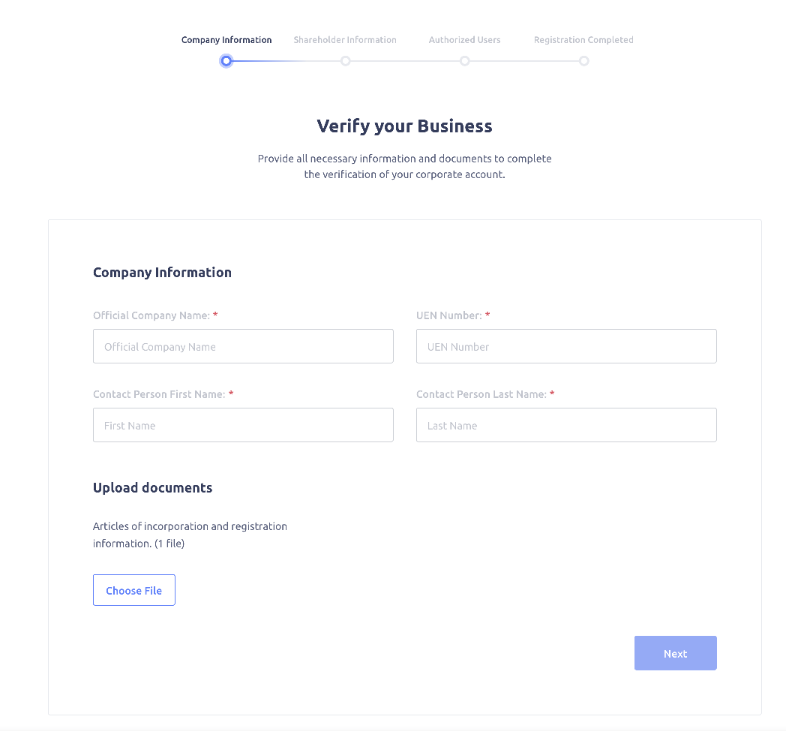 Step 7: Submit the company's shareholder information along with the personal documents to verify identity. The two required documents are: Photo ID and Proof of Address.
Click on "Choose file" button to select and upload your documents (Photo ID and Proof of Address).
All submitted documents for the Identity Verification have to be uploaded in Full Colour and of High Resolution. These are requirements to ensure we can view your details for your account's evaluation.
If there are more than one shareholder of the company that you would like to add, you can click on the option to 'Add Shareholder' at the bottom left corner of the page.
Or if you would like to remove the additional shareholder's information, you can click on 'Cancel' as well.
Select the correct type of Photo ID – Passport or NRIC:
Information page of valid passport: Please upload only 1 file.
Front and back of NRIC: Please upload exactly 2 files.
1. Photo ID
For all other nationalities, we accept passport.
Passport:

Submit a copy of the information page of your passport.
Singaporean Identity Card (Pink NRIC) / Permanent Resident (Blue NRIC) Identity Card:Submit a copy of both front and back of your Identity Card.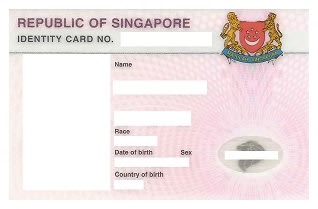 We

DO NOT

accept any other form of identity cards e.g. Work Permit, Employment Pass, driver license, transport concession card, and tertiary student identity card.
2. Proof of Address
We accept the full-page scanned copy of

only

the following documents: utility bill, bank statement, cable bill, or cell phone bill.
The bill must be dated within the

last 3 months

.
Your name and your address must be clearly shown.
Step 8: Upload the document of authorisation by the company for the authorised user to trade on behalf of the company and purpose of trade.
Step 9: After you have uploaded the required documents, you can choose to 'Save as draft' to complete the verification another time by viewing your Settings.
Step 10: You can click on the 'Submit' button when you have completed the Identity Verification for your corporate account.
Step 11: You can check your verification status at the Settings page when you have submitted the identity verification. Once verified, you will be able to start trading!