There are multiple order types available on Tokenize Xchange. In this help article we walk you through them.
One of main order types you'll see in the form on Tokenize is market order.
What is a Market order?
A Market order is an order that will be executed immediately and in full by buying or selling from the bids and asks in the order book. With a Market order, you choose the quantity of the asset you want to buy or sell and then once confirmed, you will buy or sell that quantity from the bids or asks available. This is the simplest type of order as it means you don't need to specify a price.
Market order is the quickest way to buy or sell your cryptocurrency and tokens. Once received by system, a Market order is matched and filled right away, as long as there are buyers and sellers on the Order Book.
Using a Market order to trade, means you accept to trade at the current market price.
Here is a step-by-step guide on how to buy your cryptocurrency in marker order on Tokenize Xchange.
Step 1: Select Market on your dashboard.
Click on the market you wish to buy your cryptocurrency on the tab you see on the left.
For e.g. If you wish to trade USD-BTC, click on USD tab and under the tab you will see BTC.
Step 2 : Buy BTC in market order.
You will see options: Limit, Market. Select Market.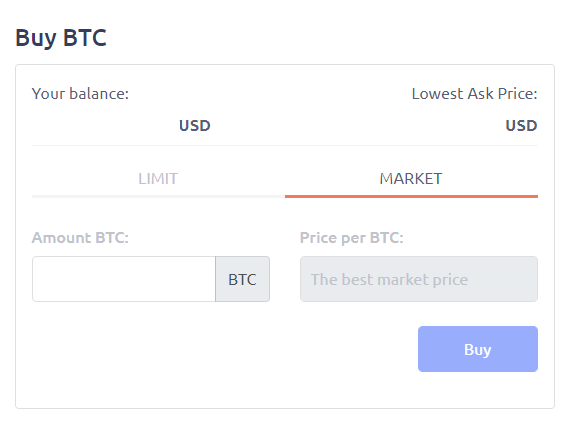 1. Your Balance: USD balance left in your account.
2. Lowest Ask Price: Lowest selling price of 1 BTC in the market.
3. Market : Your order will be filled immediately at the best market price at the time of your order.
4. Amount BTC: Key in the amount of BTC to buy.
5. Price per BTC: The best market price.
6. Buy: Once Amount is filled correctly, you may click on "Buy" to confirm your Total Bid.
Step 3 : Confirm your order.
You will see a confirmation window. Check all the details. Please see the trading commission fee here. Click "Confirm" to proceed or "Cancel" to cancel the transaction.
For example: If you want to buy 1 Bitcoin, you can select Market order, enter your quantity as 1 and confirm your order. You'll then buy 1 Bitcoin from the market.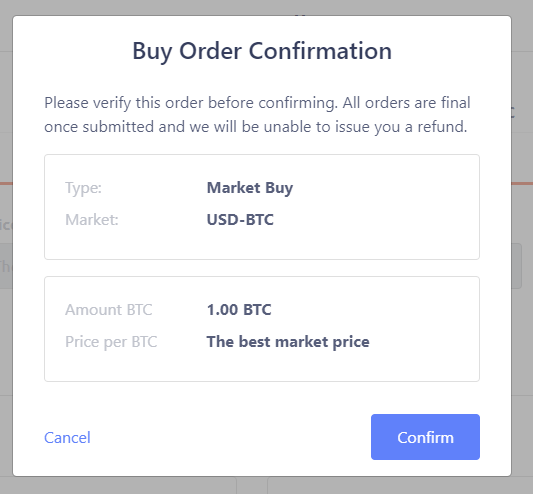 After confirming the order, you will see a green notification at the top of the page indicating that your order has been successfully placed.
If you want to sell BTC in market order. The guide is also the same as buying in market order.
Step 4 :
Your order will be matched automatically. You may view your order by selecting Orders under the dashboard.
Under the Order History, you are able to view your completed orders.