For Corporate Accounts
Click on your name ( top right corner of the page ) to reveal the drop down menu. Wallet is in the drop down menu. Scroll down to your Fiat Balance. You will see this page.
Step 1: Click on the "+" button to add your bank account information.
These will be two options : Swap from XSGD wallet and Deposit via Bank.

Click on "

Deposit via bank "
Step 2 : The dashboard will show the terms of transfer . Tick on agreement then click on" Next "
Step 3 : Fill up the bank information
Click on " Manage Bank account " then fill the bank details. After that, input the funding source and amount that you want to deposit.
Click on " Deposit" to process the next step.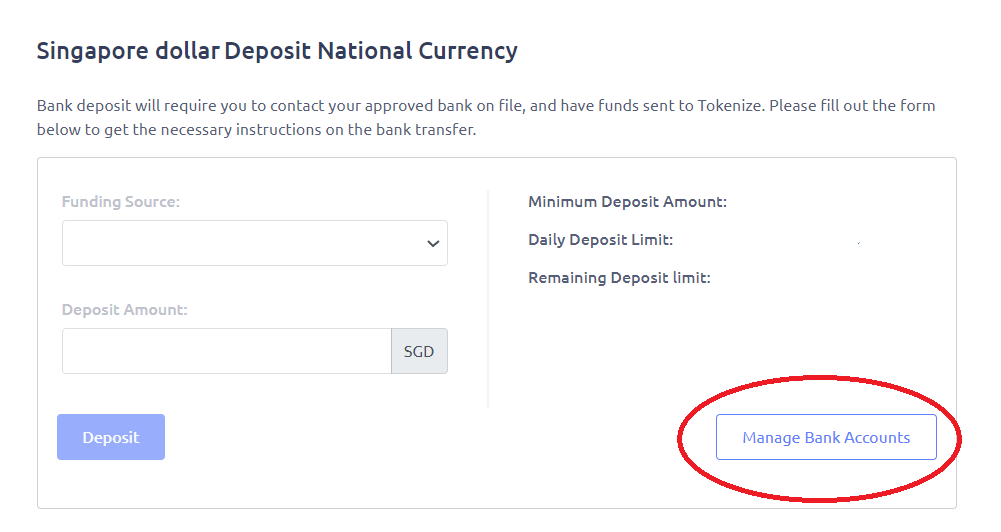 Step 4 : The dashboard will show the information that be necessary for a bank transfer to Tokenize.
Read carefully the information then click on " OK "
Step 5 : Check the email and complete the deposit request.
Note:
Once we receive your deposit request form, we will verify whether your deposited funds is received and transferred from your designated bank account in your name. Please allow 5 minutes to process your deposit request.

Your deposit will be cancelled if funds is NOT deposited within 24 hours from the receipt of the deposit request form.